City of Belgrade
Find out more about the city of BELGRADE, where the conference will take place in.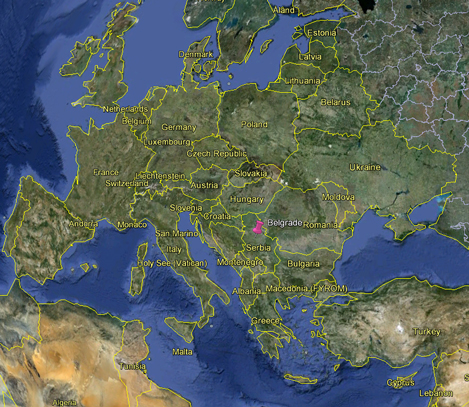 BELGRADE USEFUL INFO
Please check in the following list if you are required visa to enter Serbia.
If you do need a visa, please contact a Serbia representative (embassy or consulate) in your country for additional information.
By plane: Belgrade is serviced by Belgrade Nikola Tesla Airport, about 15 kilometers west of the city center.
For getting to the city center from the Airport, you can use a taxi or a bus.
If you prefer a taxi, the cost is approximately RSD 2000 (~€20) and you shouldn't pay for the luggage. Please check if the taximeter is on, and never negotiate the price with the taxi driver.
Bus line #72 runs twice an hour (quarter past and quarter to each hour) to Zeleni Venac in the city centre, and costs RSD 120 (~€1.20). The ticket can be bought from the driver. The trip is around 45 minutes.
A more comfortable city bus option is the A1 minibus, going from the airport to Slavija Square in the city center, stopping at Fontana (Novi Beograd) and the Main Train Station. The buses are comfortable and air-conditioned. The fare is RSD 250 (~€2.50), which is paid on-board; be sure to tell the driver what your destination is before departure.
By train: The Central Train station is located in the city center. From the station to Republic Square is 1 km (uphill) - about 15 minutes walk. Almost all national and international trains stop here, but a few trains stop at Novi Beograd station, cca 3 km west from the city centre.
By bus: Belgrade's central bus station is next-door to the central train station, in Karađorđeva street. International bus lines operate to all neighbouring and most European countries.
By car: Coming north from Budapest, the E-75 highway is recommended, as well as driving to Belgrade from the south. There is also a major road called Ibarska magistrala (Ibar highway, M-22), which provides approach from south-west (direction of Montenegro, for example). From the west, use the E-70 highway (from Zagreb, Ljubljana etc.). Major roads can be used coming east and north-east from Romania.
Time, Electricity and Water
Time Zone: Belgrade and Serbia are located in the Central European time zone region – GMT +1.
Electricity: As in most cities of Continental Europe, the electricity voltage in Belgrade is 220V. Electrical outlets are standard European.
Water: Tap water in Belgrade is safe to drink.
The official tender in Serbia is dinar, abbreviated RSD. The current exchange rate may be checked on the website of the National Bank of Serbia.